I am a graduate of Michigan State University with a Bachelor of Arts in Media and Information. I am also a graduate from a technical bootcamp for back-end .NET/C# Developers in the Metro-Detroit area. In short, I'm a lover of all-things-games and an avid leaner. I hope to utilize the skills I've gained to develop a career in a creative, technical role as a 3D artist or a back-end engineer.

I've been working with many similar tools that video game artists use to create their assets since my days of high school. In high school, I had planned on becoming an engineer and I was introduced to the industry-standard 3D modeling programs a mechanical engineer would use: AutoCad, Inventor, etc. I was also instructed on how to create 2D drawings/blueprints that would help bring a product to life.
It only seemed natural to me that I should use my love for drawing and the 3D skills I had learned to make something creative out of it. In addition to my B.A. classes, I was also working towards a minor as a member of MSU's Game Design and Development program. This small part of college life was a life-changing experience. I had to be resourceful while still performing quickly and reliably. I knew that no matter what I had to do - whether that was working a weekend job every week during the year or learning as much as I could outside of the classroom - I was determined to get a job in the industry.
During those years, I began to teach myself how to work with games, Unity, and many other accompanying technologies that would supplement my knowledge of the underlying video game pipelines. Since then, I've worked as professionally as possible on my own to continue to learn and to keep my skills relevant. Over the course of a couple of years, I've worked with a considerable amount of information and like an innumerable amount of software, extensions, plugins, and frameworks for all manner of programming or art. I have been fortunate enough to meet and work with talented people who continue to motivate me to learn and develop my own technical processes so that I might establish a dialogue with the game industry.
Please, consider how I could be a benefit to you and your team!
Thank you, and be sure to check out both of the art and programming galleries!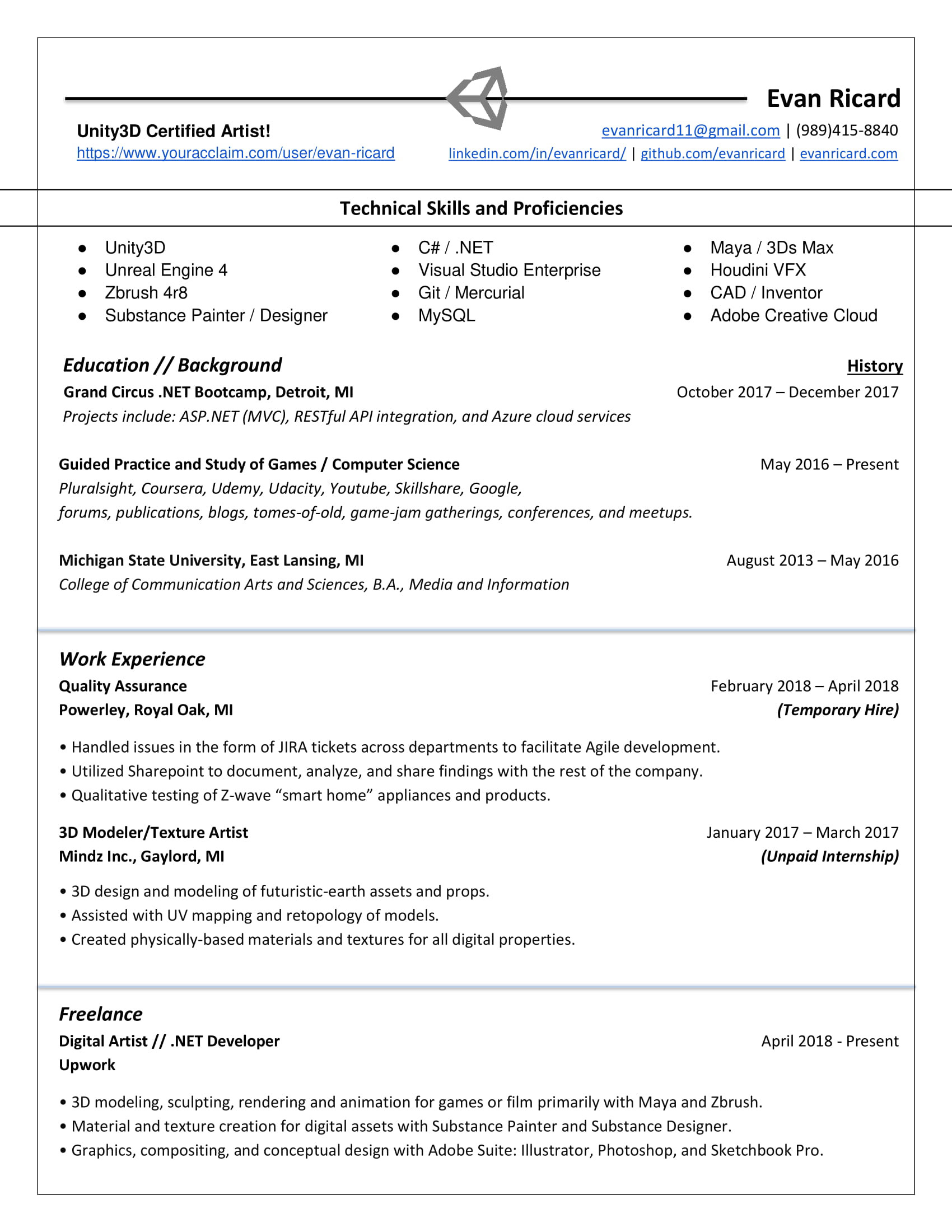 Certifications Listed Below: